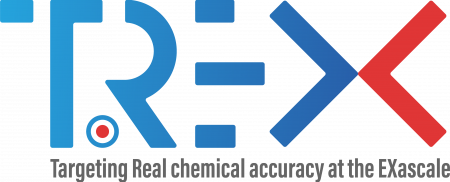 Targeting real chemical accuracy at the Exascale
The TREX Center of Excellence (CoE) aims at developing, promoting, and maintaining open-source high-performance software solutions in the field of quantum chemistry, which are ready to take advantage of upcoming exascale architectures. TREX's ambition is to predict experiments in silico at the nanoscale by means of advanced and systematically improvable stochastic methods targeting the faithful simulation of a fully consistent quantum mechanical electron problem.
To this aim, TREX will exploit and foster the use of supercomputers with energy-efficient accelerators (e.g. GPU) by means of state-of-the-art quantum Monte Carlo (QMC) codes, developed in Europe and internationally recognized as key algorithmic assets.
TREX will facilitate access to the corresponding software suites with high quality documentation and user-friendliness. This will reduce the barrier between advanced numerical simulations and scientific and industrial applications, thus accelerating innovation as well as establishing European leadership in computational science.
The initiative started on 1st October 2020 and will last for 36 months, up to the end of September 2023.
With the support of the FocusCoE project, almost all European HPC Centres of Excellence (CoEs) participated once again in the EuroHPC Summit Week (EHPCSW) this year in Paris, France: the first EHPCSW in person since 2019's event in Poland.
>> Read More
Runtime: 10/2020 - 09/2023